About
The Minnesota Historical Society preserves and makes available a wide range of materials chronicling Minnesota's history and culture. The goals of the Collections Department are to collect and preserve; provide access and interpretation; and engage in education and outreach. This blog is a tool to share these stories and let people know what is happening in the department.
 Subscribe in a reader
Minnesota Electoral College Assembly Records Transferred to the Minnesota State Archives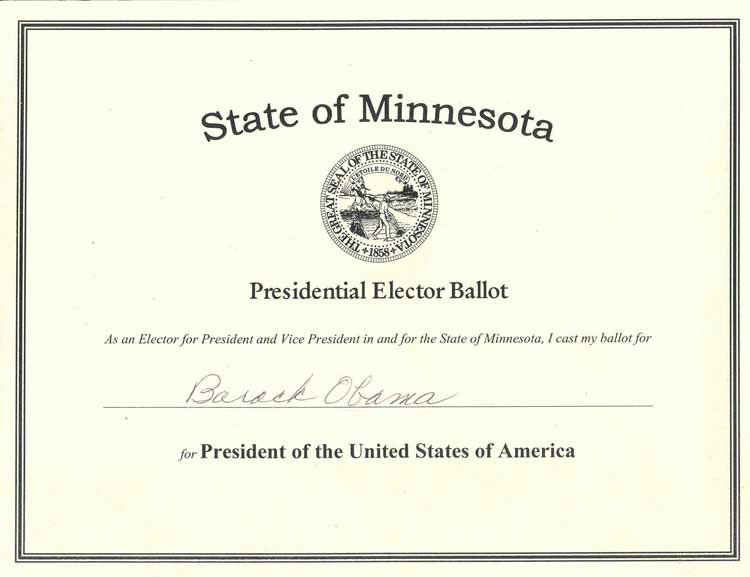 A few days ago the Minnesota Secretary of State's office transferred records of the Minnesota Electoral College Assembly that occurred on December 15, 2008.  On that day, Minnesota's ten Electors unanimously cast votes for Barack Obama and Joseph Biden for president and vice president in a ceremony held in the Minnesota State Capitol Rotunda.  Pictured here are the ballots cast by Minnesota's slate of ten Electors from the Democratic-Farmer Labor Party.  Under the U.S. Constitution, Minnesota is provided ten Electors, a number equal to Minnesota's number of senators and representatives seated in the U.S. Congress.  Also transferred with the ballots, is a photograph of the Electors with Secretary of State Mark Ritchie, the original signed Certificate of Ascertainment of Appointment of Electors for President and Vice President, a news release about the ceremony, the assembly program, and a engraved pen of the type used for the signings.   Answers to frequently asked questions about the Electoral College are available on the
Secretary of State's Web site homepage
.