About
The Minnesota Historical Society preserves and makes available a wide range of materials chronicling Minnesota's history and culture. The goals of the Collections Department are to collect and preserve; provide access and interpretation; and engage in education and outreach. This blog is a tool to share these stories and let people know what is happening in the department.
 Subscribe in a reader
Modern American Regionalism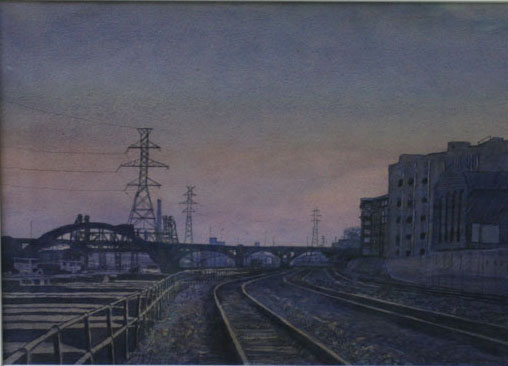 Often, my favorite things are our most recent acquisition. This is certainly the case this time. These three untitled watercolors by renowned Minnesota artist Mike Lynch (b. 1938) were just acquired in September of this year. Lynch's realist painting style is rooted in American Regionalism of the 1920s and 30s. His subjects include the urban landscapes and small town streets painted at dusk or dawn. Completed in the mid-1980s, two of the paintings capture familiar scenes of St. Paul, and the third depicts the beach in Grand Marais. All three paintings represent Mike Lynch at his absolute best and we are thrilled to include them in Historical Society's collection of more than 6,000 works of art.
This is the second important acquisition of Lynch's work in recent years.  In 2002, Lynch completed a major commission for the Minnesota Percent for Art in Public Places Program. The ten-foot by eighteen-foot painting
View of St. Paul from Indian Mounds Park
is located in the Stassen Office Building in St. Paul. MHS acquired an archive of more that 50 items that document in detail the artist's step-by-step process of its creation.
Mike Lynch was born in Hibbing, Minnesota in 1938. He studied painting and drawing with Birney Quick at the Grand Marais Art Colony and attended the Minneapolis College of Art. Over the past thirty years, Lynch has exhibited throughout Minnesota, including solo exhibitions at the Minneapolis Institute of Arts and group shows at the Minnesota Museum of American Art, Duluth Art Institute, and Minneapolis College of Art and Design. Lynch has been awarded artist fellowships from the McKnight and Bush Foundations, as well as the Minnesota State Arts Board.  In 2003, Lynch received the McKnight Foundation Distinguished Artist Award.
Brian Szott, Curator of Art