Architecture and Art
Mill City Museum is an architectural showpiece, rising eight stories within the limestone ruins of the Washburn A Mill — a National Historic Landmark and once the largest flour mill in the world.
Architecture
The Washburn A Mill was designed in the late 1800s by Austrian engineer William de la Barre. After its completion in 1880, it was declared the world's largest flour mill. It operated for 85 years, expanding into a complex of over a dozen buildings and surviving a 1928 fire. The mill shut down in 1965, and the abandoned mill was gutted by another fire in 1991.
In the mid 1990s the city of Minneapolis cleaned up the rubble and stabilized the mill's charred walls. Shortly thereafter the Minnesota Historical Society announced its intention to construct a milling museum and education center within the ruins.
Faced with how to preserve the ruins of this historically significant site while building a modern museum, MNHS turned to Thomas Meyer, principal of Minneapolis architectural firm Meyer, Scherer & Rockcastle, Ltd. (MSR). Meyer developed a concept that melded the historic integrity of the mill structures with modern components. Construction began in March 2001, and the museum opened to the public in September 2003.
Meyer's design left intact many features of the original mill, including flour bins, milling machinery, the engine house, rail corridor, and a wheat house. A glass curtain wall facing the Ruin Courtyard has etchings from an 1898 building cross section showing the location of the milling machinery. With multiple entries on two levels, the museum functions as a porous link between downtown Minneapolis and the Mississippi River.
Mill City Museum has won numerous awards, including the AIA Honor Award for Architecture, AIA Minnesota Honor Award.
Art
Woven throughout Mill City Museum and its exhibits are unique works by the local and regional artists: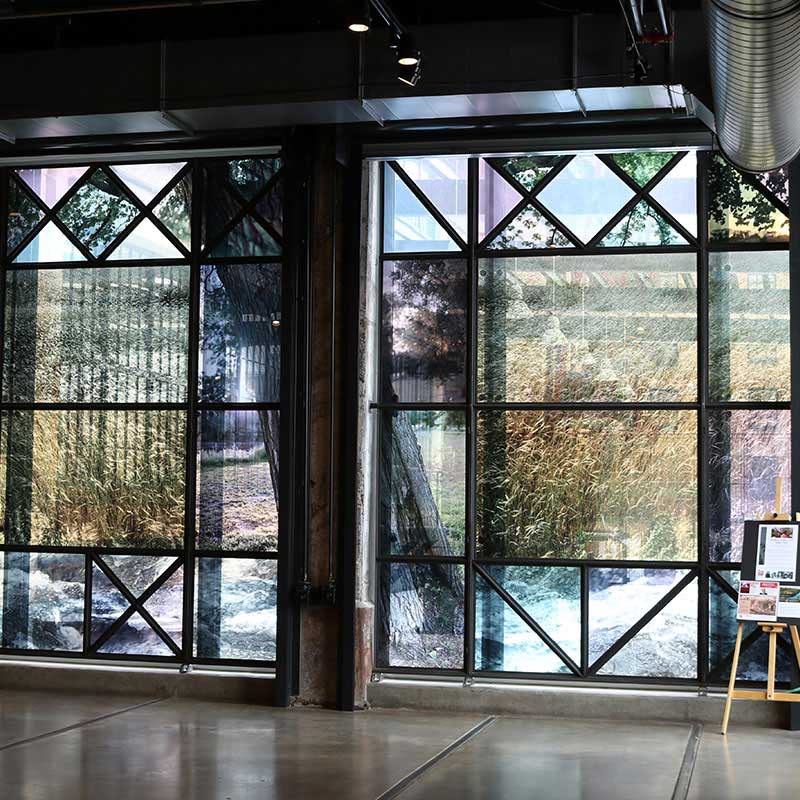 Between Now and Then, Minnesota
JoAnn Verburg, St. Paul, Minnesota
St. Anthony Falls, long considered a sacred place, is a the only waterfall on the Mississippi River. The Twin Cities were created here as the result of a great collage of forces: the spiritual regard for this location on the part of the Dakota and Ojibwe people, the power and energy of falling water, the strength and intelligence of immigrants, new possibilities of movement via the railroad, discoveries in the technology of milling, innovations in growing wheat, giant expanses of open fields, and long summer days of sunshine. This collage is made of glass, photographs, steel, and cement, and measures 14 feet tall by 25 feet wide. As you view this artwork, you stand where trains used to pass through the building. This artwork invites you to look out through images of wheat, water, tree, and sky, and from this sacred and historic location, contemplate the ever-changing present we are creating together.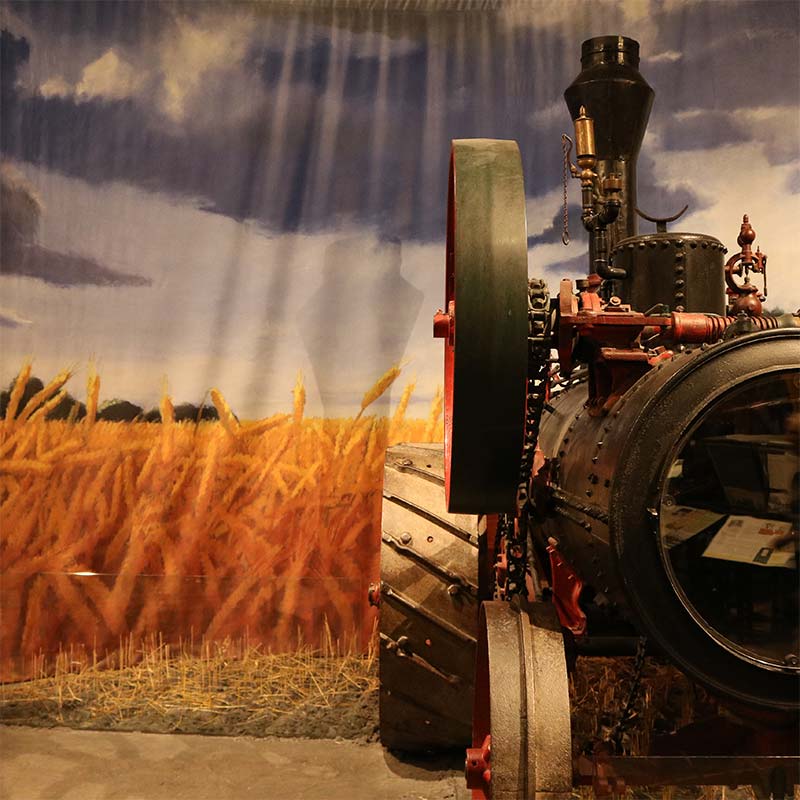 Panoramic image of a wheat field and sky
Tom Maakestad, Marine-on-St Croix, Minnesota
Landscape artist Tom Maakestad painted this image to serve as the backdrop for a late-19th-century traction engine, a major fixture in the Harvesting Wheat exhibit. Maakestad's original artwork was reproduced on a larger scale (10 feet by 20 feet) to create a context for the traction engine and suggest the vastness of the wheat-growing fields in Minnesota.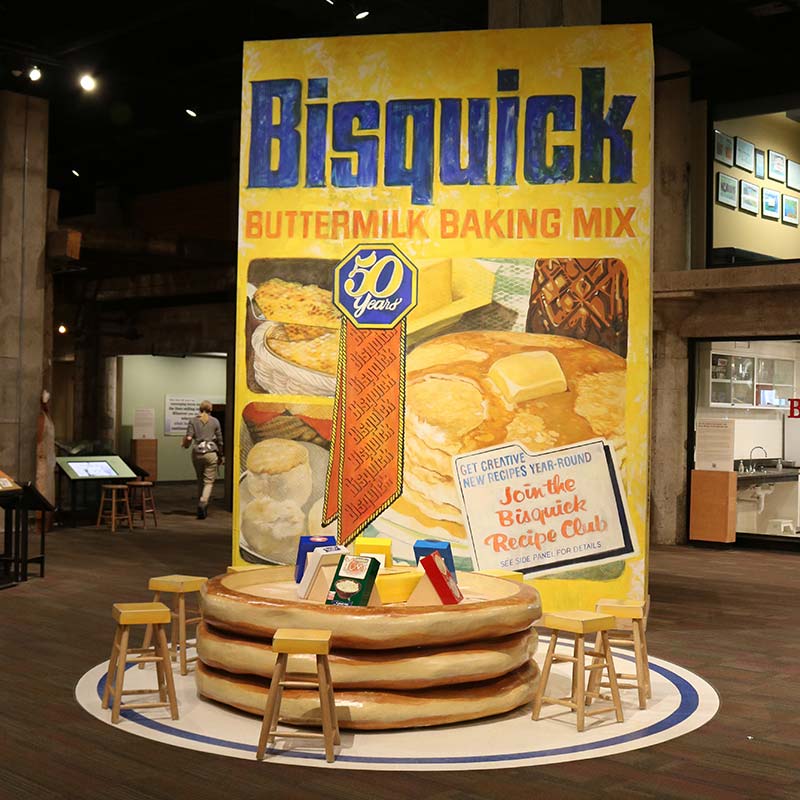 Bisquick box and pancakes
Kim Lawler, St. Paul, Minnesota
For the Promoting Mill Products exhibit, scenic painter and muralist Kim Lawler produced a 15-foot, freestanding Bisquick Box with an image of the packaging as seen in 1931 on one side and 1981 on the opposite side. Visitors are invited to step inside the box to experience signature advertising campaigns from the past and present through TV and radio commercials. Lawler also produced a 6-foot-wide stack of pancakes for a hands-on activity area where children are encouraged to design their own mill product packaging.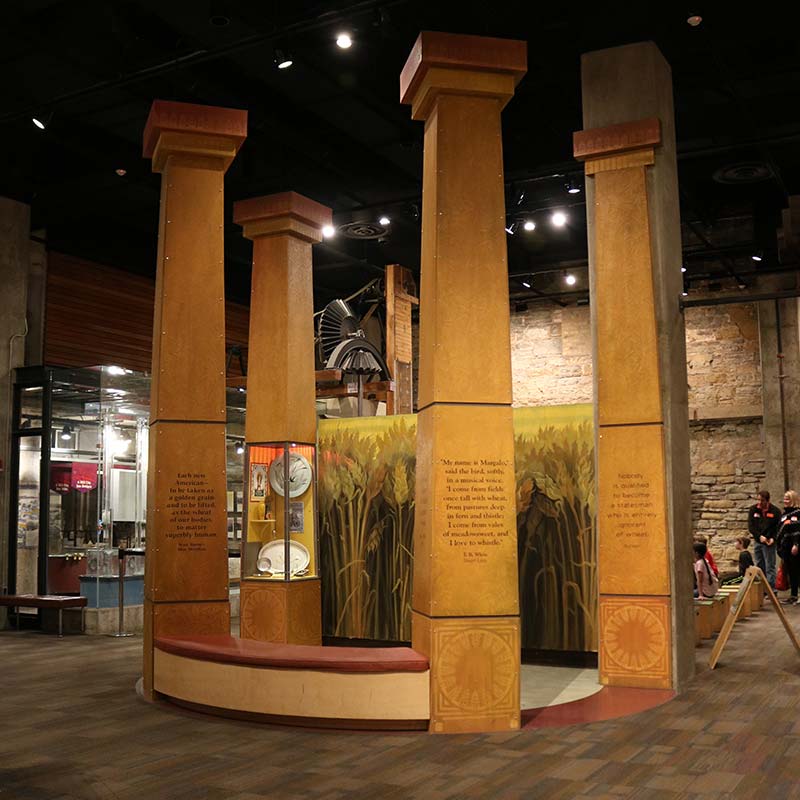 Wheat Emporium
Kim Lawler, St. Paul, Minnesota
Lawler designed a three-columned, freestanding structure for the Wheat Emporium, an exhibit that explores how wheat imagery has been used as a potent symbol throughout the ages. Each column is actually a case that displays everyday objects, such as paintings, currency, clothing, and dishware that incorporate wheat as a decorative motif.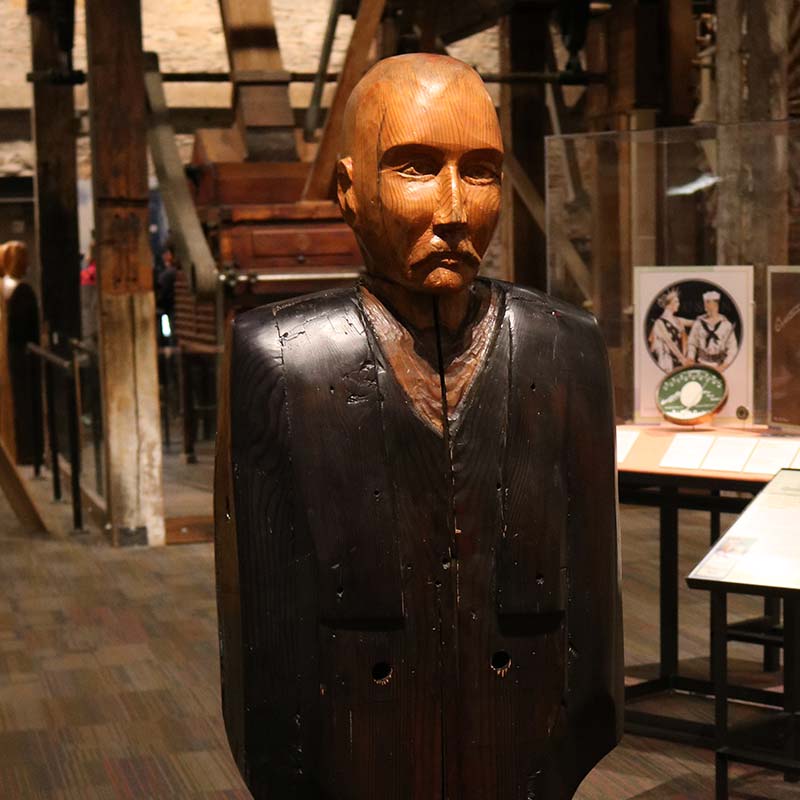 Wood sculptures
Paul Wrench and Becky Schurmann, Minneapolis
Husband-and-wife team Paul Wrench and Becky Schurmann brought characters introduced throughout Mill City Museum to life. The 13 figures were hand-carved from salvaged white pine from Humboldt Mill, a neighboring mill of the Washburn A Mill. Each sculpture has been stained and finished, and represents an individual who played a role in the flour milling story. The sculptures include William de la Barre, the Austrian engineer who designed Washburn A Mill; Jean Spielman, a labor organizer; Mary Dodge Woodward, a cook on a bonanza wheat farm; and boxcar loaders and female flour packers.