As a child, Charles Lindbergh was surrounded by science. His grandfather Dr. Charles H. Land, a dentist, encouraged him to conduct experiments when he visited his basement laboratory. Lindbergh also helped his mother develop photographs in the family kitchen turned dark room. Lindbergh also considered becoming a medical doctor, like many of his mother's family.
In the late 1920s, Charles Lindbergh rekindled his fascination with the study of biology, purchasing several books and a good microscope to learn more. His interest was especially piqued when his sister-in-law's health began to deteriorate.
Elisabeth Morrow suffered from severe heart damage. At the time surgery was not an option because there was no way to stop the heart long enough to repair the damage. Lindbergh had the idea of using a mechanical pump to circulate the blood during the operation and began researching an "artificial heart."
In 1930, Lindbergh met Dr. Alexis Carrel at the Rockefeller Institute of Medical Research. Dr. Carrel was working on a perfusion pump, which could spread nutrient media over tissue cultures to keep them alive; however, the process was prone to infection.
Lindbergh began working with Dr. Carrel and in 1934 they designed a pump that could properly maintain circulation of nutrient fluid through an organ for up to two hours without permanent damage. However, they still struggled with infections.
It took another year of research before the Lindbergh Pump was used to successfully cultivate a whole organ for the first time, opening a new era in medical research.
View of the perfusion pump, a device designed to keep organs alive, invented by Charles A. Lindbergh.
In 1929, Lindbergh met Professor Robert H. Goddard, who was researching rockets and new types of fuel. Lindbergh and Goddard shared the belief that someday a rocket could be built to reach the moon. Lindbergh wanted to support Goddard's research and used his connections to secure funding from Daniel Guggenheim.
With funding in place, Goddard set up a laboratory near the city of Roswell, New Mexico. Within a few years Goddard launched 15-foot rockets weighing 85 pounds that traveled as high as 7,500 feet into the air.
Lindbergh's enthusiasm for rocketry fueled Guggenheim's own interest and the two continued to support Goddard's research.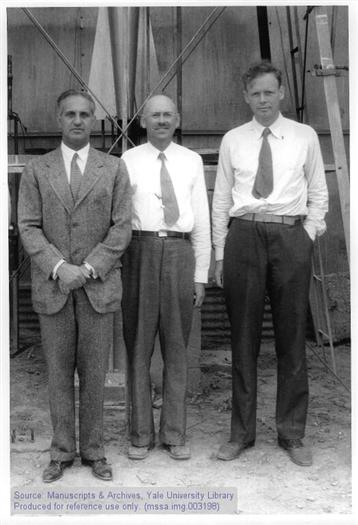 Harry Guggenheim, Robert Goddard, and Charles A. Lindbergh (l. to r.), Roswell, NM, 1935. Photo courtesy of Yale University Library. 
High-altitude flight tests
While Lindbergh was working for Henry Ford during World War II, he had the opportunity to assist the Aero Medical Unit for Research in Aviation Medicine at the Mayo Clinic. There, Lindbergh helped develop ways to prevent high altitude sickness, including hypoxia — inadequate levels of oxygen in the blood.
For 10 days, Lindbergh underwent a variety of tests simulating air pressure at an altitude of 40,000 feet. During the course of these tests, Lindbergh determined that the Army's emergency-oxygen equipment was inadequate for such high altitudes. In addition, Lindbergh proved that a pilot could train his body to become aware of hypoxia quickly enough to trade oxygen masks, something which was previously believed to be impossible.
At the end of his time at Mayo Clinic, Lindbergh recommended that all high-altitude aviators be trained in the use of emergency bailout oxygen equipment in a low-pressure chamber. Henry Ford applied this new information to his airplanes and modified their oxygen equipment, saving lives in the process.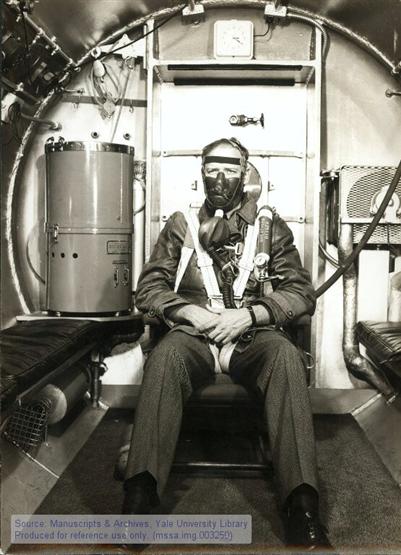 Charles A. Lindbergh in an altitude chamber prior to testing at the Mayo Medical Center in Rochester, MN, September 1942. Photo courtesy of Yale University Library.