Gertrude Hill
Gertrude was born March 4, 1883, at the Hills' Ninth and Canada house in St. Paul.
When she was nine, Gertrude wrote to President Grover Cleveland (whom her father had met) to tell him that her birthday and his second inauguration would coincide; he sent her an autographed picture in return.
Gertrude attended Visitation Academy from 1894-1899, and graduated from Miss Spence's School in New York in May 1901. Gertrude was the tallest of the sisters and often is pictured at the back in group photographs.
In 1906 Gertrude married Michael Gavin at St. Mary's Catholic Church in St. Paul, the first church wedding of the Hill children. Michael was a Catholic from Memphis and a Yale graduate. He was a lawyer employed as a junior partner with the New York investment banking firm of Moore and Schley at the time of his marriage.
James J. Hill purchased the house at 12 East 65th Street adjacent to his own New York home, had it demolished, and built a new home on the lot for the couple. The Gavins later sold this home and purchased an apartment at 760 Park Avenue in the City. The two original Hill residences, 8 and 12 East 65th Street, are now the Pakistani Consulate.
The Gavins had a home in Boca Grande, Florida, and an estate in Jericho, Oyster Bay, Long Island. In 1926 Gertrude purchased a medieval French chapel, Chapelle de St. Martin de Sayssuel, and had it moved from the village of Chasse to her estate in Jericho. The structure was dismantled stone-by-stone and the American architect John Russell Pope was in charge of its reconstruction on Long Island. It joined the Gavins' French Renaissance chateau that Gertrude had also brought stone-by-stone from France.
After Gertrude's death the chateau was burned, but the chapel was saved. The new owners gave the exterior stone facade of the chateau to the Metropolitan Museum of Art and the chapel to Marquette University, where it was once again reconstructed and dedicated to Saint Joan of Arc. Gertrude had a chapel built in Boca Grande, and nephew Jerome Hill painted the Stations of the Cross for its interior.
In 1915, with help from a James J. Hill loan, Michael Gavin became an associate in Montgomery & Company, an investment securities firm. He sat on the boards of a number of mining companies.
Gertrude was socially active in New York City. She was also a sportswoman, going almost every year to the Saint John River in Quebec for salmon fishing and to various private fishing and hunting camps, mostly in Canada. The Gavins were also members of the Jekyll Island Club and had an apartment there in the San Souci building, where her parents often spent the winter.
Michael Gavin died in July 1960 and Gertrude passed away six months later on January 11, 1961. Both died in New York City and are buried at Resurrection Cemetery in Mendota Heights, Minnesota. They did not have any children.
Gertrude's philanthropy, like many of her sisters, centered around the Catholic Church. In addition to her gifts to the Catholic dioceses of New York, St. Paul, and Miami, she was the first president of the National Council of Catholic Women, for which she was decorated by the Pope in 1924.
She, along with Charlotte and Rachel, funded the construction of the Church of Saint Mary of the Lake in White Bear, Minnesota. Gertrude was responsible for purchasing a number of religious articles for the interior of that church. Gertrude and Michael Gavin also set up a trust for the James J. Hill Reference Library that ultimately totaled over $1 million.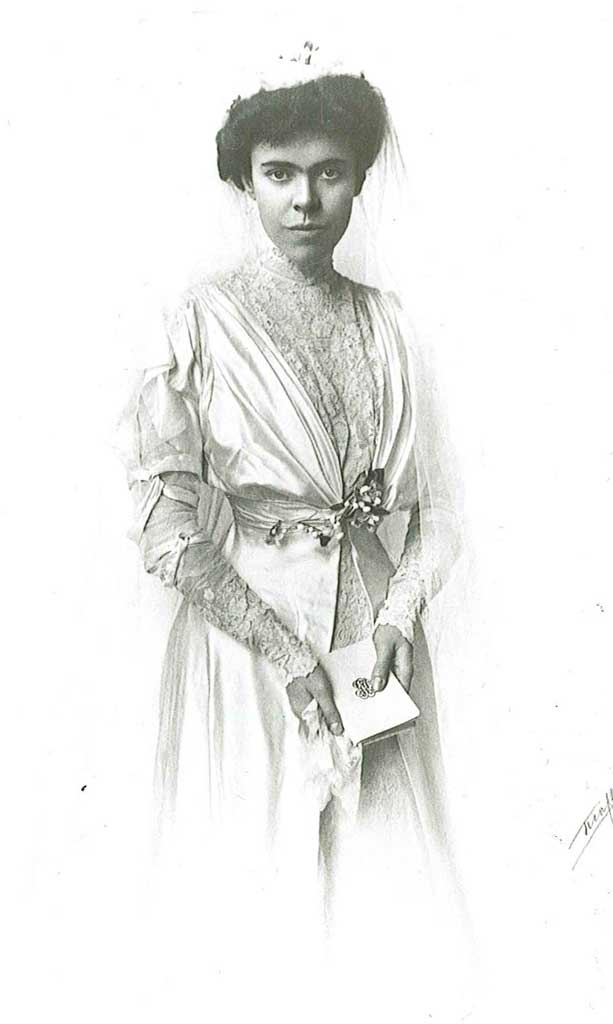 Gertrude in her wedding gown, 1906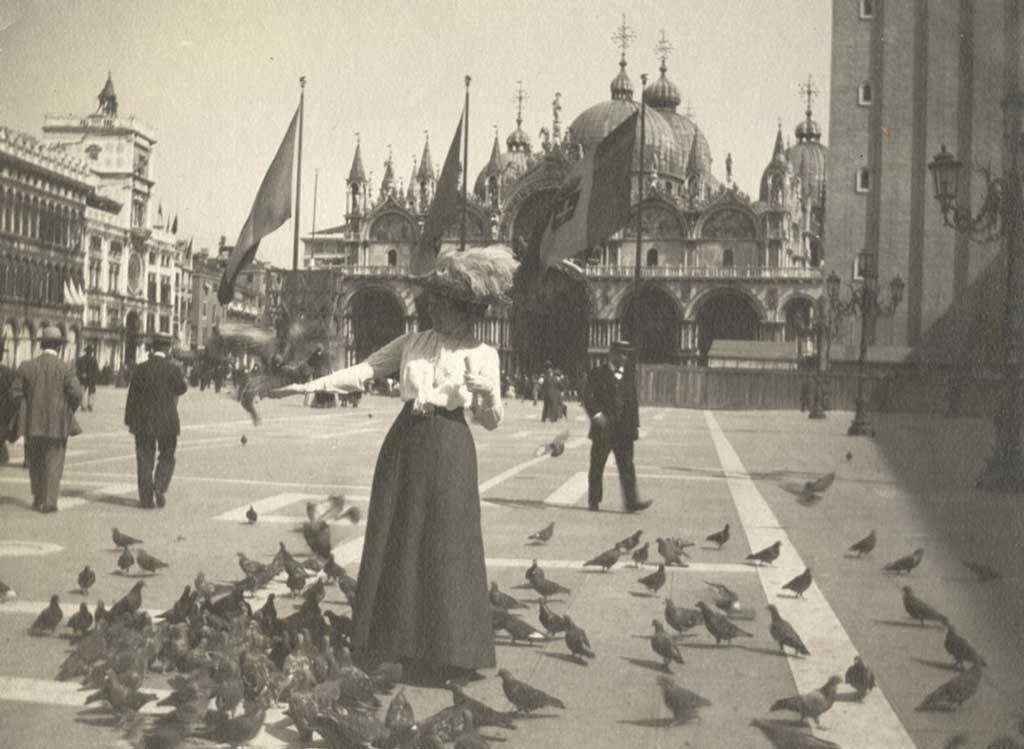 Gertrude Hill Gavin in Italy