Mary Frances (Mamie) Hill
The eldest child of James J. and Mary T. Hill, Mary Frances was born in the Hills' first home at Canada and Pearl streets in St. Paul, on August 3, 1868.
Mary Francis, or Mamie as she was usually called, began her education at Visitation Convent Academy in the 1870s, the first of the Hill daughters to attend school there.
In the spring of 1888 she became engaged to one of her father's employees, Samuel Hill (no relation). Sam had graduated from Harvard and had been in practice with the local law firm, Jackson, Atwater and Hill, but was hired by James J. Hill and worked in a variety of positions at the railway, including head of the Montana Central Railroad.
The couple was married by family friend Father Louis Caillet at the Hills' Ninth and Canada home on September 6, 1888, and they honeymooned in Europe. Wedding gifts included 1,000 shares of stock in the St. Paul, Minneapolis, and Manitoba Railway, valued at $1 million, which provided a yearly dividend of $6,000.
The couple moved into a modest house at 344 South 7th Street in Minneapolis. In 1889, their first child, Mary Mendenhall, was born. Son James Nathan Branson followed in 1893.
Sam Hill continued to work for his father-in-law throughout the 1890s and acquired substantial real estate holdings in the Pacific Northwest. In 1899 he left the railroad, and the family moved to Seattle by 1901.
Mamie and Sam's marriage was often troubled, and in 1903 the couple were living in separate residences. Mamie made her primary home in Washington, DC, while Sam remained in Seattle. The children divided their time between their parents and frequently stayed with their grandparents at the Hill House and the North Oaks farm. Mamie also maintained homes or apartments in New York City, Lenox, Massachusetts, and Tarrytown-on-the-Hudson, New York.
Sam later built a huge residence in Washington State, named "Maryhill" after his daughter, which overlooked the Columbia River gorge and is now an art museum. Sam Hill died in 1931 and one obituary described him as a "globe-trotter, lawyer, financier, railroad builder, militant apostle of peace, 'father of good roads' and active director of a dozen big industries...a human dynamo transmitting inexhaustible power to a myriad of projects."
The James J. Hill Reference Library in St. Paul was the recipient of many items that belonged to her father. Mamie gave the library a large elephant tusk, mounted by Tiffany, that hung in the hallway at the Hill House, a commemorative silver punch bowl and loving cup given to James Hill, the cap and gown that Hill wore when he received his honorary degree at Yale University in 1910, and a number of large art folios, among other donations. She also had a large portrait painted of Hill and ordered an exhibit case to hold the items she had presented to the library.
Mamie, whose health was fragile, died in New York on April 13, 1947. She was buried in the Hill family section of Resurrection Cemetery in Mendota Heights, Minnesota.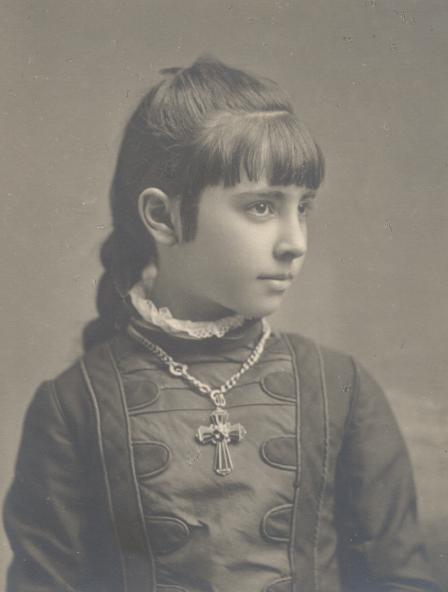 Mary Frances (Mamie) Hill, ca. 1880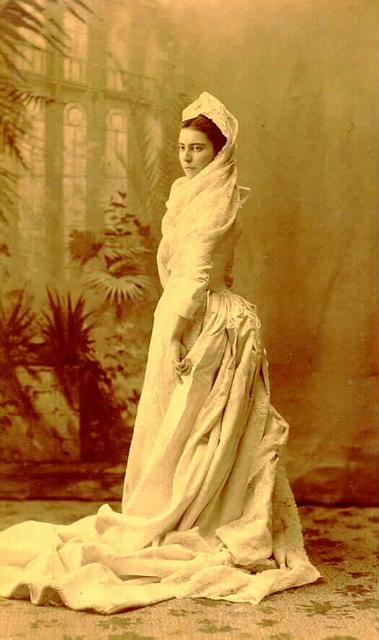 Mamie in her wedding dress, 1888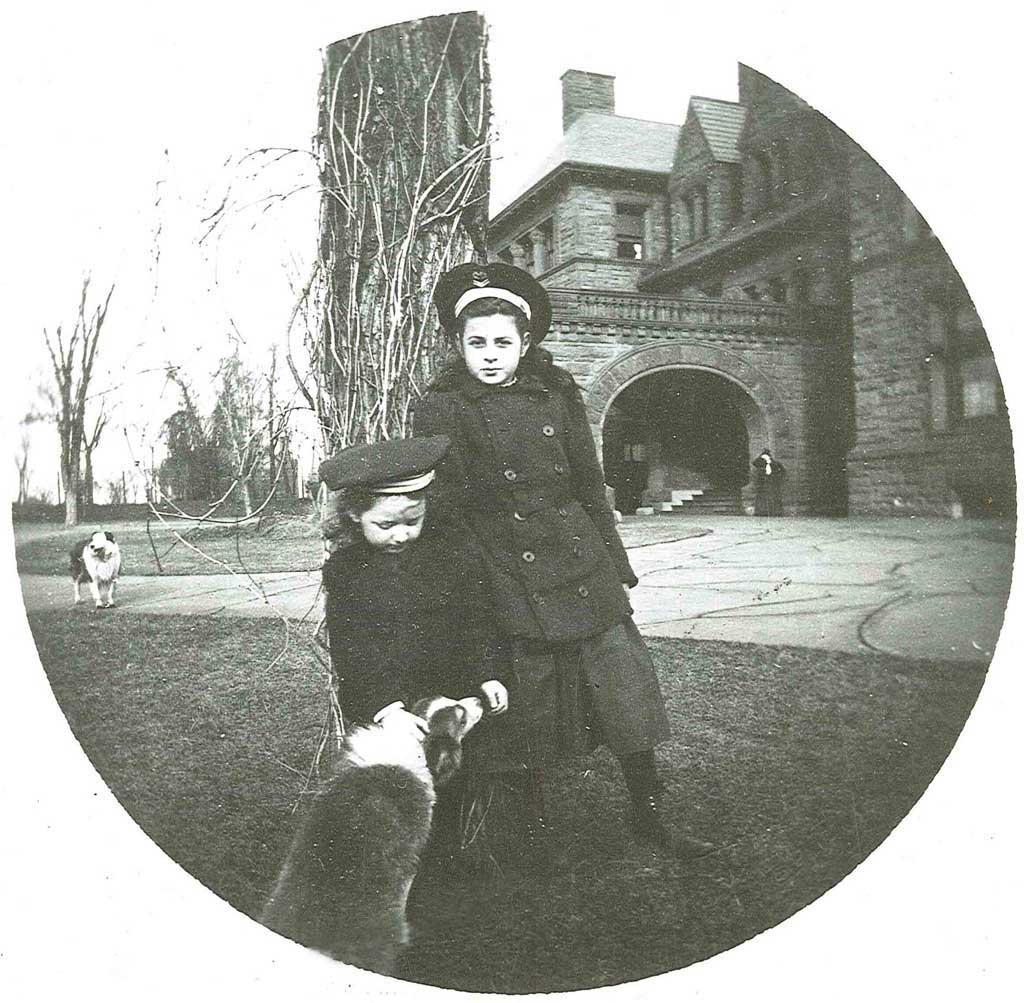 Mamie's children, James Nathan Branson Hill and Mary Mendenhall Hill, ca. 1898